The Last Duel (2021)
Bective Bridge and Abbey featured in scenes of 'The Last Duel', directed by Ridley Scott, written by Ben Affleck, Matt Damon and Nicole Holofcener.
The movie is based on the 2004 book, "The Last Duel: A True Story of Trial by Combat in Medieval France" by Eric Jager, and is described as "an epic tale of betrayal and justice". It tells the story of the last officially recognised judicial duel in France in 1386, which saw a trial by combat pitting a knight against a squire accused of violating the knight's beautiful young wife.
Becoming Jane (2007)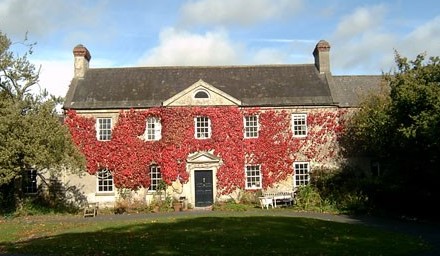 Becoming Jane, released in 2007, is a fictional portrait of a pre-fame Jane Austen and her romance with a young Irishman whom she met in the winter of 1795-96. Set in the Georgian era Higginsbrook House in Trim features as Steventon rectory. The owners, the Gray family appear as extras in one party scene. Actual on-site shooting only lasted for a couple of weeks, albeit with breaks in-between. Starring Anne Hathaway, James McAvoy, Julie Walters and Maggie Smith. The film tells the story of 20-year-old Jane Austen (Anne Hathaway) and her romance with an impoverished young Irish lawyer, Thomas Lefroy.
Northanger Abbey (2006)
Northanger Abbey is a 2007 British television film adaptation of Jane Austen's 1817 novel of the same name.
In 2006, 'Northanger Abbey' was filmed at Bective, as part of an ITV Jane Austen season. The two-hour feature starred Felicity Jones, JJ Field, Carey Mulligan, and William Beck, with Irish actors Liam Cunningham, Hugh O'Conor, Julia Deardon and Gerry O'Brien also on the cast.
Jones played the lead role of Catherine Morland, a young girl who enters the depraved city of Bath with dreams and fantasies sparked by her love of gothic romance novels. The novel was adapted by Andrew Davies, who co-wrote both feature film adaptations of 'Bridget Jones Diary'.
Higginsbrook House, near Trim, served as the exterior to the Morland family's home. Ardbraccan House served as Fullerton Church and rectory.
The Count of Monte Cristo (2002)
Jim Caviezel played Edmond Dantes, the naïve sailor who manages to find himself imprisoned by his best friend – only to escape, find a hidden fortune buried underneath an island and return to his hometown to wreak bloody revenge on those who wronged him. Filmed in Kildare, Meath and parts of Dublin, the Count of Monte Cristo is a fantastic swashbuckler. The climactic fight scene between Dantès and Mondego was filmed near Slane.
Morlang (2001)
The film is based on a true event which happened in Holland where a suicide pact has been set upon between a couple which goes awfully wrong. A chilling psychological drama.
Paul Freeman plays Julius Morlang, a successful art photographer who has moved on after the tragic suicide of his first wife, Ellen, played by Diana Kent. Morlang finds a new love in Ann, Susan Lynch, who is a younger version of Ellen.
According to producer Petra Goedings of Phanta Vision, they and their Irish co-producers, Samson Films, needed an authentic house in a rural environment for Morlang's holiday home. Samson Films hired a locations' manager who looked for a suitable period house for three weeks. An Irish-Dutch co-production it was filmed at Duleek House.
Black Day at Blackrock (2001)
Written and directed by Gerry Stembridge the drama provides a focus on attitudes to asylum seekers. It centres on the reaction of a small Irish town to the news that thirty asylum seekers are to be housed there. The three-week shoot took place in Dunboyne, Kilmessan and Summerhill. Cast: Don Wycherly, Julie Hale, Tom Hickey, Pauline McLynn, Jasmine Russell and Anna Manahan;
The Last September (1999)
The Last September is a 1999 British drama film directed by Deborah Warner and produced by Yvonne Thunder from a screenplay by John Banville. It is based on the 1929 novel by Irish writer, Elizabeth B. Stars included Maggie Smith, Michael Gambon, Keeley Hawes, Lambert Wilson and David Tennant. It was filmed at Dowth Hall, near Drogheda.
Fatal Deviation (1998)
Produced in 1998, it is a low budget cult film produced and set in Trim and enjoys the distinction of being Ireland's first and possibly only full-length martial arts film. The film stars real-life martial arts enthusiast James Bennett. The film was conceived by James Bennett.
The plot is fairly standard action movie material as a troubled young man returns to his hometown after a ten-year stint in reform school on a mission to find his father's killer. He fights off the local drug gang via a martial arts tournament while rescuing the girl from the clutches of the drug baron's son.
Bennett was a fan of both Jean-Claude Van Dammee and Steven Segal, both of whom he would eventually work with.
The gang leader was played by prominent local solicitor Michael Regan.
Meath Gaelic footballer Graham Geraghty makes a cameo as "Celebraty Contestant in White shirt #1" in the early stages of the Bealtaine tournament, demonstrating a signature headbutt. Mikey Graham of Boyzone featured as Mikey. Other featured actors include: Nicola O'Sullivan, Colin Hamilton, Justin Harmon; Barry Smith; Peter Crinion; Paudie Greene, Johnny Murray and Mattie Finnigan. Director: Shay Casserley. Scenes were filmed locally at Supervalu, The Boyne Community School and a local quarry.
"Fatal Deviation" has through word-of-mouth become a much sought-after release and, indeed, something of a cult classic. It is one of my and my family's favourite movies of all time.
Fatal Deviation on Nationwide
Full movie:
Braveheart (1994)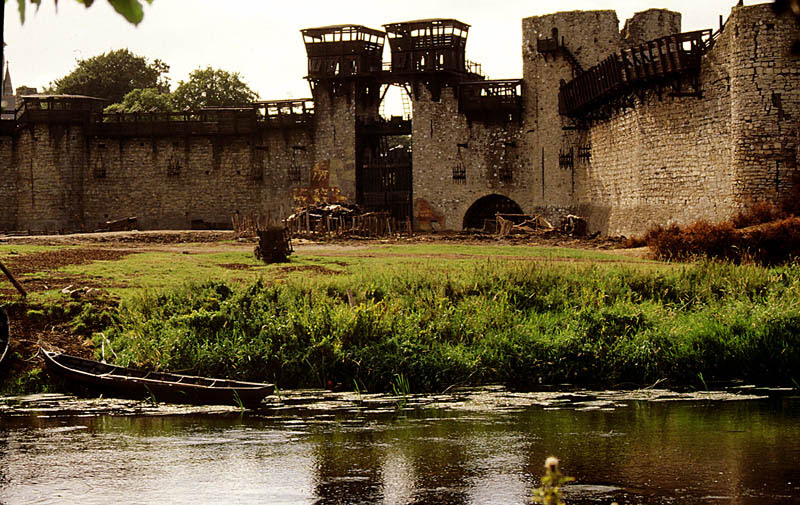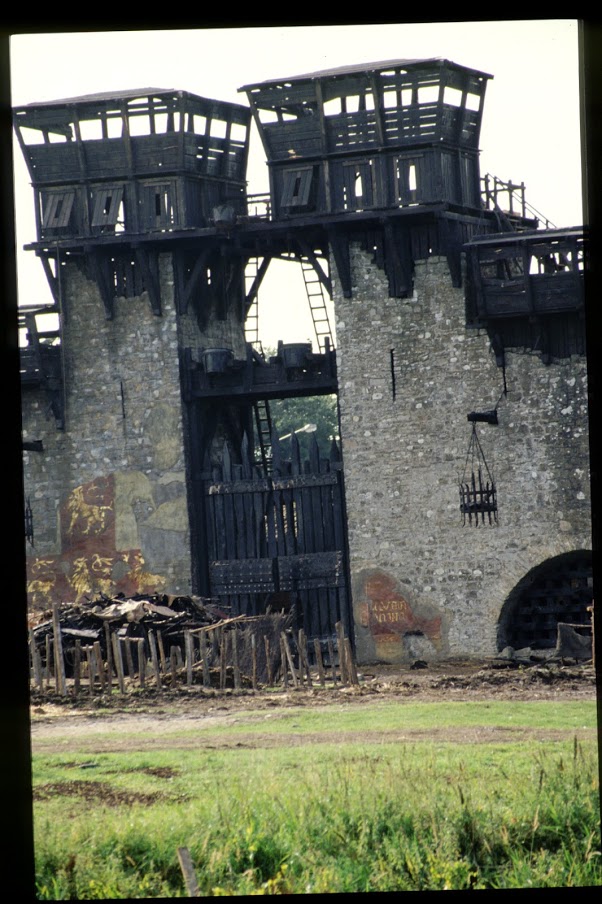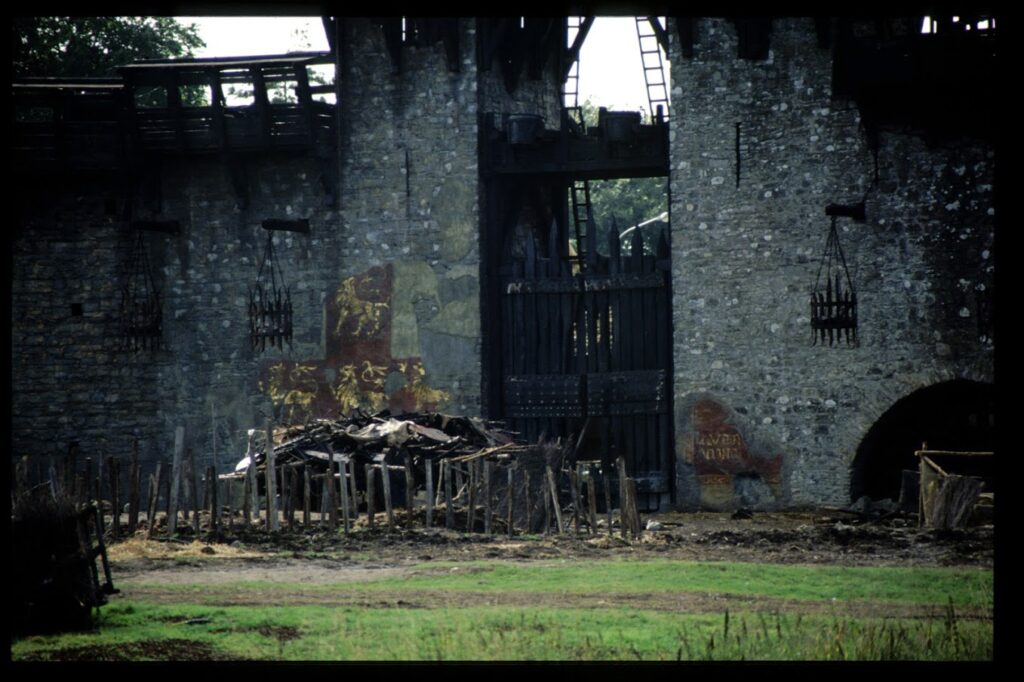 In 1993 Trim Castle was purchased by the State and the following year became a set for the film, Braveheart. The movie stared Mel Gibson, as the Scottish hero, William Wallace, with Sophie Marceau, Patrick McGoohan, Brendan Gleeson and a host of well known Irish actors among the cast. Braveheart employed hundreds of Trim locals as extras. Outside the castle walls was transformed into the thirteenth century city of York which was besieged by William Wallace in the movie. The keep inside the walls became the Tower of London where Wallace was executed in 1305. A local story has it that one of the extras on the set was over enthusiastic when it came to throwing apples at Wallace as he was pulled along to his execution. Hitting Gibson with a good hard throw the actor leaped up and let people know how he felt. When the lunch break that day dragged on for more than the usual hour and the second hour passed the extras discovered what was happening. Mel Gibson was going through the film rushes in an attempt to find out who threw the apple. The culprit was never identified ………. officially. Edward II was portrayed as an effeminate homosexual in Braveheart. In the movie the father kills his son's lover by throwing him out the window; the window was at Trim castle in the movie. Edward II was killed with a red hot poker shoved somewhere up his body, use your imagination or on second thoughts don't.
Bective Abbey was used for two scenes; once in which the French princess Isabella (played by Sophie Marceau) converses with her maid about the daring rebel William Wallace (Gibson), in the distinctive cloister of Bective. One of rooms in Bective Abbey doubled as a dungeon in another scene in which Wallace is held captive by his enemies.
St.Nicholas's Church in Dunsany became Westminister Abbey for the wedding of king Edward's son and Princess Isabelle.
Photos courtesy of Frank Courtney
Fools of Fortune (1989)
In 1989 the ruins of Kilbride House, just outside Trim, were used for a scene in the film, "Fools of Fortune". A night scene I remember seeing the sky lit up with flames as the house was "destroyed". Directed by Pat 'Connor, "Fools of Fortune" was released in 1990 and starred Julie Christie. It depicted a Protestant family caught up in the conflict between the British Army and the I.R.A. during the War of Independence. This film was based on the story by Irish novelist, William Trevor.
Eat the Peach (1986)
Eat the Peach is a 1986 Irish comedy directed by Peter Ormrod. The title derives from the T. S. Eliot poem, The Love Song of J. Alfred Prufrock. It was written by Peter Ormrod with John Kelleher. It stared Stephen Brennan, Eamon Morrissey, Catherine Byrne, Niall Toibin, Joe Lynch and Tony Doyle.
Vinnie lives with his wife and daughter on the bog where he also works, repairing machines for Bord na Mona. Vinnie and his brother-in-law, Arthur look for something new to give meaning to their life. They find it whilst watching Roustabout, an Elvis Presley movie about wall of death motorcycles riders. Vinnie determines to establish his own wall on the bog. The wall built, they invite the community and a television crew to the grand opening. However as the bike speeds around the plywood walls, vibrations shake the viewing platform, convincing the audience that the wall is unsound. They flee in a panic.
The Peters' home at Piercetown, Dunboyne, was a landmark property for many years for anyone travelling the N3 from Meath to Dublin. Known as the 'Eat the Peach' house because the building featured in the film. It has since been to be demolished.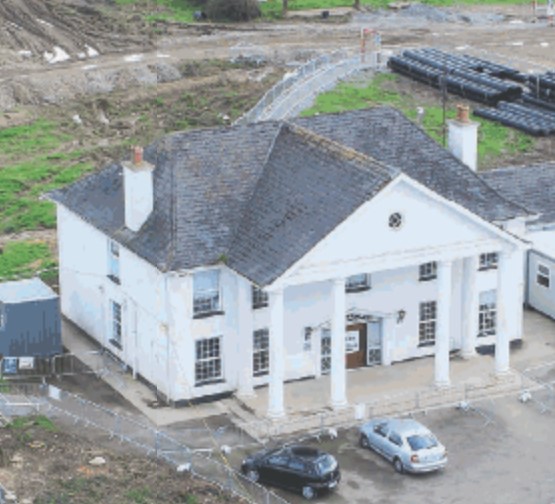 Based on a true story:
http://raisedbogs.ie/tag/eat-the-peach/
The Big Red One (1979)
In 1979 Trim Castle and the exterior and interior of Dunsany Castle featured in "The Big Red One, a powerful military drama focusing on an American infantry squadron in World War II, from landing in North Africa to the liberation of a concentration camp in Czechoslovakia. Having previously fought in World War I, an unnamed sergeant now leads soldiers of the U.S. First Infantry Division through World War II. Lee Marvin was the hardened sergeant and he and the four core members of his infantry unit try to survive World War II as they move from battle to battle throughout Europe. Mark Hamill and Robert Carradine also starred in the movie. Director, Samuel Fuller, tells the semi-autobiographical story of a squad of sharpshooters trying not to die. Slane castle also features in the movie.
Photos courtesy of Libby Tobin.
The Big Red One – Trim Castle
The Pink Panther Strikes Again (1976)
Scenes for the film 'The Pink Panther Strikes Again' were filmed on the Drogheda-Navan line in June 1976. The six-coach train was hauled by 001-class locomotive 048. The loco and stock were given an approximation of the SNCF livery with water paints. The coaches had stickers to represent 'Paris, Limoges & Toulouse' destination boards.
The Flight of the Doves ( 1971)
Adapted from a book by Walter Macken. In the cast are Ron Moody, Jack Wild, Helen Raye, Dorothy McGuire, William Rushton, Stanley Holloway. The "Doves" are a couple of kids, brother and sister, played by Jack Wilde (the Artful Dodger of "Oliver" and newcomer Helen Raye. Desperate to escape their vicious uncle in London, orphans Finn and Derval Dove embark on a dangerous journey across England to Ireland. Lonely and scared, their only hope lies in reaching the Connemara cottage of their beloved grandmother. The youngsters take refuge for a night in the ruined church on the Hill of Slane. Suspense and humour along with a good deal of warmth are the qualities of "The Flight of the Doves." The film was directed by Ralph Nelson.
Darling Lili (1968)
Darling Lili is a musical/war drama starring Julie Andrews, Rock Hudson, Jeremy Kemp and Doreen Keogh. Director was Blake Edwards, husband of Julie Andrews. Considered a huge flop at the time of its release this was their first film together.
Filmed in part in Dublin at Heuston Station, the Gaiety Theatre, and Trinity College. Aerial sequences were also filmed including an attack on a train on the freight-only line between Drogheda and Navan. A steam train and appropriate carriages travelled to Beauparc station. There were a number of old war planes used around Slane during filming. "Darling Lili" was the story of an American ace who falls for a German female spy.
Casino Royale (1967)
In an early spy spoof, aging Sir James Bond comes out of retirement to take on SMERSH.
Directors included John Huston and four others. Stars included David Niven, Peter Sellers, Ursula Andress, Orson Wells and a host of cameos. Much of the filming for M's Scottish castle was actually done on location at Killeen castle, Co. Meath.
Killeen Castle became 'McTarry castle" when John Huston was the director. Huston came to Ireland for the foxhunting and also the Irish bogs could double for grouse moors. This was the ancestral castle of Bond's Boss M. A large crane was brought in for Deborah Kerr's swing on a drainpipe. Peter O'Toole played the bagpipes on the rooftop, where he was supported by a steel pole.
The chaotic nature of the production features heavily in contemporary and later reviews
Killeen Castle in movie:
Interview – RTE Casino Royale at Killeen Castle
The Blue Max (1965)
The Blue Max which starred George Peppard was made in Ireland. A young pilot in the German air force of 1918, disliked as lower-class and unchivalrous, tries ambitiously to earn the medal offered for 20 kills.
The Peppard name has a long historical connection to Trim and George was descended from Lawrence Peppard, son of Thomas Peppard and Susan Reynolds Louth, Drogheda, Ireland. Lawrence settled in Nova Scotia in 1767.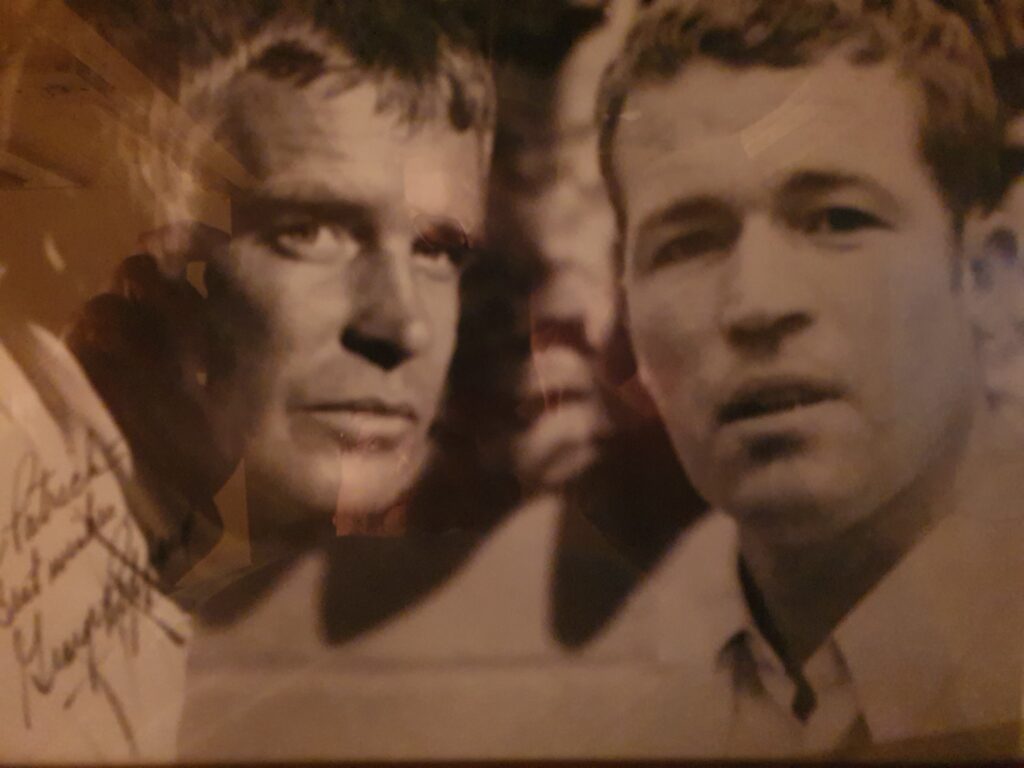 Oldcastle man, Liam Sheridan piloted one of the planes during the filming in Ireland of 'The Blue Max". He was thrilled to have been given a small part in the film. Dogfights and flights over the town took place with helicopters filming the action. An aerial view of Trim town with the Yellow Steeple clearly visible is included in the movie. There were many spectacular shots of South Meath, especially around Scurlogstown, where the two biplanes performed hair-raising stunts. One landmark used was the old railway viaduct over the Boyne which carried the Trim and Athboy branch from Kilmessan. The film crews used it to illustrate planes flying between the granite piers. It was demolished soon afterwards.
Blue Max featuring Trim from above
Captain Lightfoot (1954)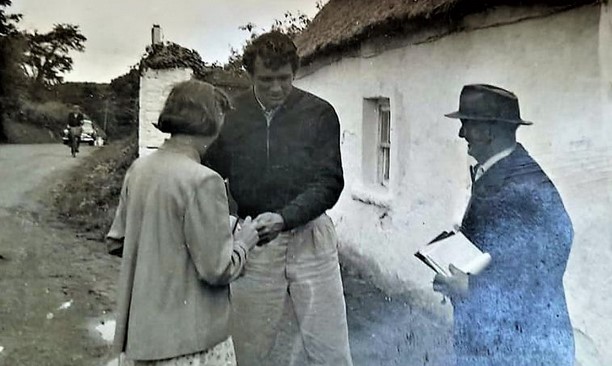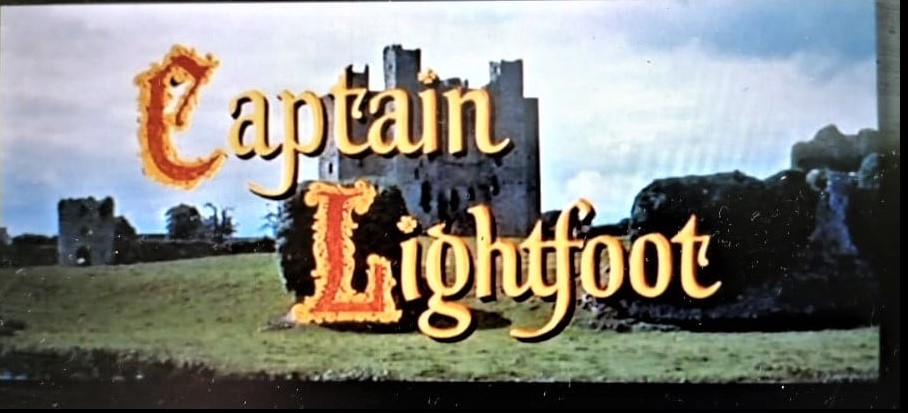 Rock Hudson starred as Michael Martin, "Captain Lightfoot", in the film of the same name made in 1954. Michael Martin is a headstrong young patriot who has turned to highway robbery to support his country's cause against England in 1815. Popular culture depicts highwaymen as folk heroes. In one case, Martin gifted a large sum of money to a starving family facing eviction from their home. He then lurked in the vicinity, waited for the landlord's agent to collect his rent, and relieved him of it as he left.
Filmed on location in Ireland, Captain Lightfoot features Rock Hudson in a versatile role that allows him to play an action hero with a wry sense of humour as well as a dashing ladies man. Bective Abbey and Slane Castle were two of the locations used in Meath. Hilton Edwards had a part as did Charles Fitzsimmons from Kells, brother of Maureen O'Hara. Filmed almost entirely on location in Ireland, this was one of the first Universal pictures to be filmed away from Hollywood.
In 1819, Martin boarded a ship for New York. He purchased a brewery in Salem, Massachusetts, but when he found himself in debt, he soon reverted to his old ways. The real Captain Lightfoot ended his life as the last man hanged in New England for the crime of highway robbery in 1821.
This one was sent to us a while back by Demetri Chrysostomou
Rock Hudson in Bective (1955) giving an autograph to Frances Chrysostomou (15) with her Father John O'Dare.
John O'Dare was delivery man for Smythe's. They were making a delivery to the pub in Bective where the crew of Captain LightFoot were waiting for their dinner. The sergeant from Kilmessan was providing security. He took the photo.
Rock Hudson invited Mam into the pub, introduced her to the other stars on set and passed her autograph page around for everyone to sign (including Barbara Rush).
When Grandad went back the next week with Smythe's deliveries the sergeant gave him the photo
Irish Destiny (1926)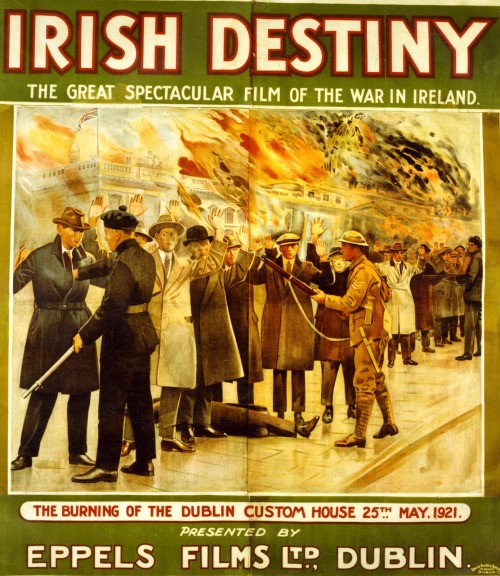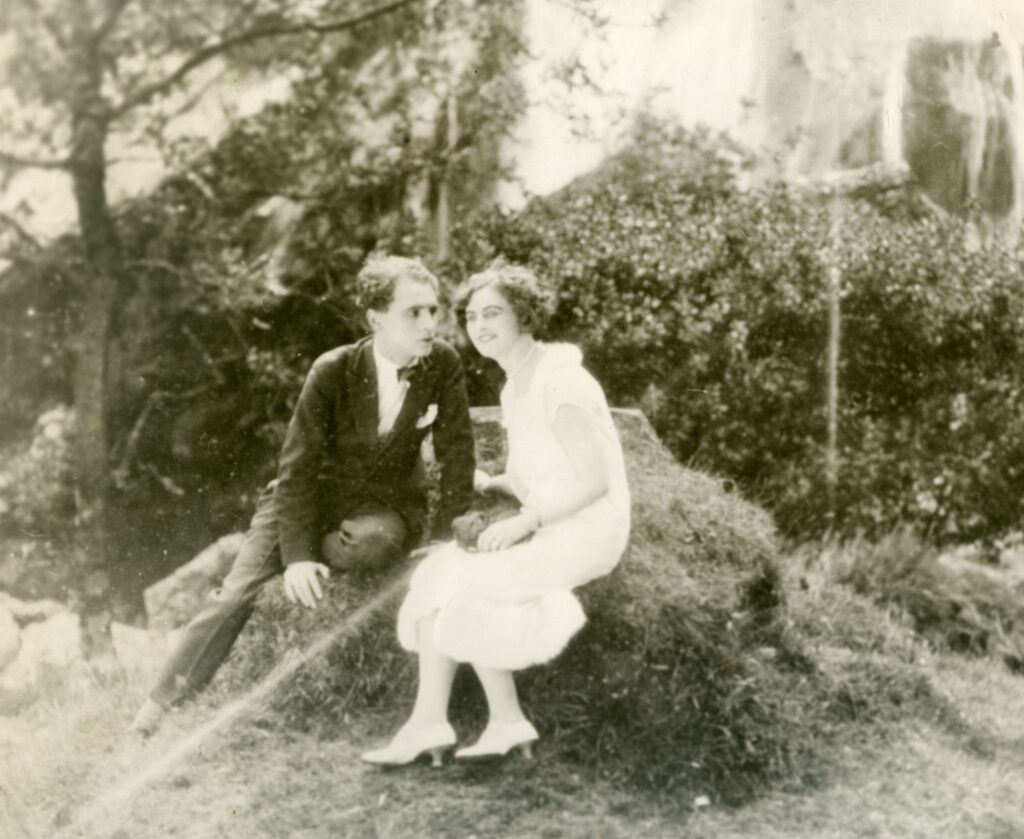 Irish Destiny is a 1926 film made in Ireland to mark the tenth anniversary of the 1916 Rising. It starred Paddy Dunne-Cullinan of Carrollstown, Trim, as the main lead. Irish Destiny, a love story set against the War of Independence, is one of the important surviving examples of Irish cinema of the silent era. It tells the story of one Denis O'Hara, a middle-class "only son" who breaks his mother's heart by volunteering for active service with the IRA. Paddy Dunne-Cullinan, secured the part of Denis O'Hara, the dashing male lead, due to his prowess as a horseman, not to any previous acting experience. Irish Destiny is the first fiction film that deals with the War of Independence and the first and only film written and produced by a Dublin Jewish doctor, Isaac "Jack" Eppel. The film's dramatised sequences were shot in Dublin, Wicklow and at Shepherd's Bush Studios, London, in 1925. The earlier newsreel sequences had been filmed during the burning of Cork in December 1920 and Dublin's Customs House in May 1921.
The Kells Cinema booked an early run of the film, "which has been eagerly awaited by the cinema–going public both at home and abroad… As entertainment the film is first-class and is presented with special music and effects. We venture to say that attendance on Tuesday and Wednesday next will be record-breaking."
Despite this favourable reception in Ireland and among Irish emigrant audiences abroad, the film was not a financial success.
The film was considered lost for many years until 1991 when a single surviving nitrate print was located in the US Library of Congress by the Irish Film Institute's Irish Film Archive who had the film transferred to safety stock and restored. The Irish Film Institute then commissioned a new score for the film by Mícheál Ó Súilleabháin.
Carrollstown House on the Trim-Dunderry Road, was erected by Patrick Joseph Dunne in 1883. Dunne bred Ascetic Silver who won the Aintree Grand National in 1906. Patrick Joseph Cullinan married Josephine, oldest daughter and heiress of P.J. Dunne and he continued the horse training and owning venture. Their son, Patrick Dunne-Cullinan, continued to train horses at Carrollstown after the death of his father in 1923. Born in 1898 Paddy Dunne-Cullinan was educated in Yorkshire before returning to Carrollstown on the death of his mother at a young age. A keen jockey and skier, he was a member of the Irish four-man bob-team at the 1920 St Moritz Olympics. In 1926 he starred as leading actor in Irish Destiny and was subsequently offered a role in a Hollywood movie which he declined. Dunne-Cullinan and his wife moved to Knockdrin Castle in Westmeath and then to Bellair in County Offaly. Dunne-Cullinan died in 1978.
Trouble in Paradise TV Series (2007)
Directed by Emer Reynolds and written by Barbara Bergin.
Trouble in Paradise was a six-part drama series for RTÉ Two. Set somewhere in contemporary Ireland, Trouble in Paradise followed the highs and lows of three local families, the Littles, the Doogans and the McShanes, as they battle it out over love and land. Filmed on location in Oldcastle, Co. Meath, Rathesker, Co. Louth and Dublin.
Aristocrats (1999, TV Mini-Series)
Directed by David Caffrey. Based on a true story by Stella Tillyard, eighteenth century England and Ireland is viewed through the eyes of four beautiful high-born sisters – Caroline, Emily, Louisa, and Sarah Lennox, great-granddaughters of a king, daughters of a cabinet minister, and wives of politicians and peers. Scenes were filmed at Slane.
The Castle (1998) TV Mini-series
Patrick McGoohan, the actor who portrayed Longshanks, King Edward I, in the Trim-filmed 'Braveheart". Previous to his role in 'Braveheart", filmed at Trim Castle, Bective and Dunsany in 1994, he was best known for two of the most memorable British television series of the 1960s, 'Danger Man" and 'The Prisoner". Three years after the filming of Braveheart, he returned to Trim for the filming of a US television mini-series 'The Castle", in which he played Sir James Essex. During filming at Trim Castle, he was very friendly and approachable, and had no problem standing in with extras for photographs. 'I love coming back to Trim,' he said at the time. 'Diana and I are staying at the Wellington Court, and my wife and I come back to Ireland every year.' McGoohan was born in the Queens District of New York on 19 March 1928, the son of Roman Catholics who three years earlier had emigrated to the United States. The family returned to Ireland when Patrick was an infant, but their attempts to make a living in Leitrim failed, and they moved to Sheffield, where as a young lad, Patrick was taken on by the repertory company at Sheffield"s Playhouse Theatre. He eventually appeared in many West End productions including Orson Welles" production of 'Moby Dick". McGoohan was one of few actors who has successfully switched between theatre, TV, and films many times during his career. He was often cast in the role of 'angry young man". McGoohan set up his own production company and produced the TV series 'The Prisoner", revolving around the efforts of a secret agent who resigned early in his career to clear his name. His aim was to escape from a fancifully beautiful but psychologically brutal prison for people who knew too much. The series was as popular as it was surreal and allegorical and its mysterious final episode cause such an uproar.
The Moores of Fordstown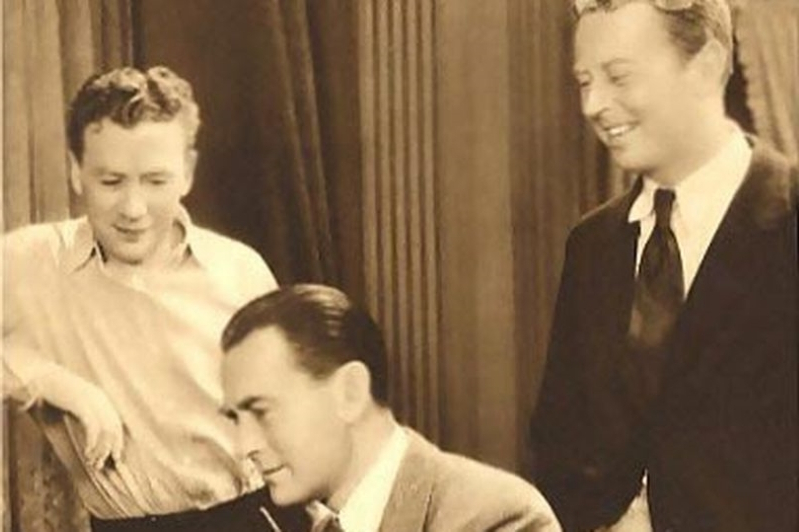 The Moores of Fordstown were extremely well-known across the USA back in the Roaring Twenties. The brothers and sister Mary were brought to the US by their parents John and Rosanna and settled in Ohio before teenagers Tom and Owen ran away to join a travelling theatre company.
As children, the Moore brothers arrived penniless in Ellis Island in 1896, a world away from their Meath village. But 20 years later, Owen, Matt and Tom Moore had starred in more than 500 movies, with each of them later getting their own star on the Hollywood Walk of Fame. The siblings were household names across the US in the 1920s, with Matt's two cats also having stars in the animal section of the walk of fame.
Their fame reached new heights when Owen married the famous silent screen actress Mary Pickford in 1911, before she divorced him to marry Douglas Fairbanks days later. Their other brother Joe also starred in more than 40 films, and their sister Mary appeared in 13 productions.
A small plaque was erected in their native village in 2005 to recognise their achievements.
Tom Moore first appeared on the stage when he was 21. He came to Hollywood in the silent picture days and became a top performer. His two brothers — Owen and Matt — also were stars on the silent screen. In 1929 the three starred in "Side Street." Over the course of his long career, Moore appeared with some of the biggest stars in scores of films including "The Primrose Ring," "Stop Thief," "Mr. Barnes of New York," "The Cowboy and the Lady," "Manhandled," "Adventure," "The Trouble with Wives," "Good and Naughty," "The Last Parade" and "Mr. Broadway." His last appearance was in the network television play "The Secret," with Francis X. Bushman and Madge Kennedy. His career declined with the arrival of sound pictures and subsequently confined to supporting roles.
Owen Moore's career in motion pictures began with D.W. Griffith shorts in 1908. Owen, Mary Pickford's first husband, was known as one of the great stars of silent films. He was in his heyday as a screen idol at about the time when Wallace Reid, Rudolph Valentino and others were in the limelight. When talkies came along, Moore found it difficult to obtain employment. One of his last screen appearances was in Mae West's "She Done Him Wrong" in 1933.
Matt Moore was a film star who was known as one of the screen's finest and most facile young comedians. Moore's career was described as one of a slow and steady process. He had never taken a reduction in pay, but he also never set the town on fire. The film that won Moore fame was "Fools in the Dark" (1924), in which his fight scene registered him rather effectually with movie fans as a screen fighter of Dempsian skill and prowess.
Their sister, Mary, died of Spanish Flu while nursing American soldiers in France after World War I.
Pierce Brosnan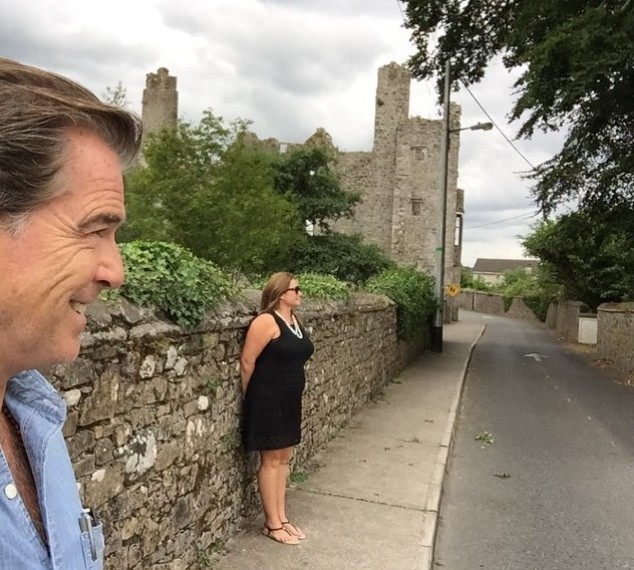 Navan is the childhood home of Pierce Brosnan, the fifth actor to play the role of James Bond. 'I'm from Navan and I'm proud to be a "Navan Man"' said the actor. Pierce Brosan spent much of his childhood at 2 St. Finian's Terrace in the town. Born in Drogheda in 1953, Pierce lived in Navan for his first twelve years and considers it his home town. In 1950 Tom Brosnan, moved from Tralee to work in the John Hogg furniture factory. Tom met May Smith in the CYMS Hall on the Fair Green in Navan. May, who was much younger than Tom, worked in Navan Carpets. The love-struck couple were married in the local church. Brosnan's father left the family when Pierce was an infant. When Pierce was four years old, his mother moved to London to work as a nurse. From that point on, he was largely brought up by his grandparents. After their deaths he lived with a grand aunt and then another grand aunt. 'Childhood was fairly solitary. My mother came home once a year, twice a year.' Brosnan was educated in the local school run by the de la Salle Brothers and served as an altar boy. It was eventually decided that Pierce would join his mother in London where he went on to study acting and become an international superstar. Pierce Brosnan was made a Freeman of Navan in 1999. 'I left a Navan boy and came back a Navan man.'
His first major role was in the mini-series, The Mannions of America, 1981, then he played the title role in Remington Steele TV series (1982–1987). The Mannions of America mini- series was part filmed at Mullafin House, Duleek, and The Grove. The stars were David Soul and Pierce Brosnan. If the Mannions of America marked his arrival as an actor, Remington Steele showed he had the range and charisma to attract large audiences on a regular basis. The series ran for 91 episodes, bring Brosnan's debonair, wisecracking investigator into American homes at prime viewing times for more than four seasons. In 1995 he was cast as James Bond in Golden Eye.
Meath Movie Shorts
Maureen O'Hara was a native of Kells, although she grew up in Dublin. Her father Charles came from a house at the bottom of Farrell Street. The buildings now house a supermarket and carpet shop along with apartments. She visited the town on 26 May 2012 to receive the freedom of the town and to unveil a bust in her honour.
Doreen McKay of Republican Pictures was the leading lady ion "Pals of the Saddle" and also the lead in "Night Riders". Her real name is Miss V. Wallace of San Francisco. Her mother was Miss. M. Sheridan of Donore, Moynalty. Doreen spent some months on holiday in Moynalty in the late 1930s.
Vincent Ahern at 33 years old made his film debut in "Sahara" released in 1944. His film name was Richard Nugent. He was a native of Ross, Mountnugent, Co. Meath. He married Patricia Moore, daughter of the Earl of Drogheda. He was educated at the Gilson Endowed Schools at Oldcastle and went to America in 1918. . He lived in New York before moving to Hollywood.
Ann Blyth, starred in 1951 movie 'The Great Caruso' visited Duleek in 1952. She played the role of Caruso's wife in the movie with Mario Lanza playing Caruso. Ann's uncle, Tommy Lynch, lived at Gaskinstown, Duleek. Tommy worked at Butlins, Mosney.
Arthur Flanagan from Kilbeg, (1900-1968) was one of the biggest men in the county. He was 6ft 4in and over 20 stone. He auditioned for the part of the giant in 'Quo Vadis' and he was down to the last six. The ex-boxer Buddy Baer was the man who got the part.
For six years, Doolistown House, Trim, was the home of T.H. White, author of The Once and future King (Filmed as Camelot) and his beloved dog "Brownie".
The iron railway bridge over the River Nanny at Laytown has featured in several Neil Jordan films, most notably the Oscar-winning "The Crying Game" and Michael Collins.
Dunsany Castle interior was used in early 1980s for Barbara Cartland's "The Call of Love."
Vikings fans might be swept up in the majesty of seeing an ancient form of Paris and the River Seine but what they are actually looking at is a CGI spectacular set against the River Boyne.
Neil Jordan's 1997 film adaptation of Patrick McCabe's novel "The Butcher Boy" (1992) was partially filmed at Headfort House. Kells.
The actor, Jimmy Stewart, visited Rathmolyon in the 1960s as he was an investor in a company, Ambassador Oil, drilling for oil in the area.
Omagh was a film dramatising the events surrounding the Omagh bombing and its aftermath, co-produced by RTÉ and Channel 4. It was first shown on television in both countries in June, 2004. It was filmed on location in Navan. The film ends with the Julie Miller song Broken Things, which was performed by local singer Juliet Turner at the memorial for the victims of the Omagh bombing.
Crime drama, "Blood" was filmed in Kilcock and south Meath. Starring Adrian Dunbar and Carolina Main it first aired in 2018. Larchill Arcadian Gardens features in one scene.