Recorded by Noel E. French July 1987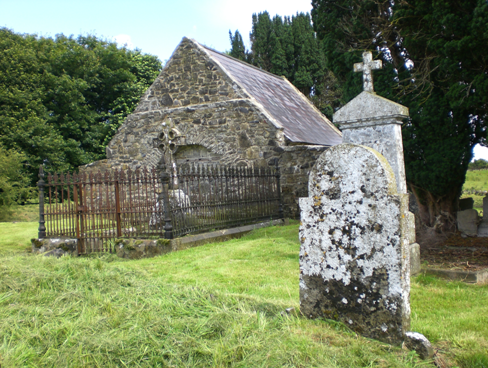 Trimleston is now generally spelt Trimblestown which is much easier to pronounce. The cementry is situated two miles west of Trim, one mile from the river Boyne. The church was under the patronage of the Barnewall family who lived in Trimblestown Castle. The castle is situated just behind the graveyard.
The first Barnewall to be associated with Trimlestown was Sir Robert Barnwall, a younger son of Sir Christopher Barnewall of Crickstown Castle, Co. Meath. Robert was knighted by Richard, Duke of York around 1450 and was created Baron of Trimblestown in 1461.
His son Sir Christopher was pardoned in 1488 for supporting Lambert Simnel's claim to the throne. His son Sir John was made Lord Chancellor of Ireland in 1534.
During the persecution of Roman Catholics during Elizabeth 1's reign Trimbleston Castle was a well known refuge for Jesuits. Matthias the 8th Baron was outlawed after 1642 for his part in supporting the rebellion of 1641. Trimblestown Castle was attacked in 1647 by General Jones. The Barnewalls forfeited their lands in Meath under Cromwell and were granted lands at Monivea, Co. Galway. The family maintained a vault at Kilconnel Abbey from then on.
On the restoration of Charles 11 they regained their lands in Meath and also managed to hold onto the lands in Galway. The Barnewall family sided with James at the Battle of the Boyne. Matthias the10th Baron fled to France after the defeat and was killed at a battle in 1692 fighting for France. His brother managed to return to Ireland and recover his land at Trimblestown.
The 12th Baron of Trimblestown kept a large eagle chained up at the door. He had been educated in France where he had acquired a skill in medicine. He treated the poor of the neighbourhood free of charge. The 16th Baron died in 1879 and shortly afterwards the Barnewalls abandoned Trimblestown.
Trimblestown castle consists of a medieval tower house with an 18th century house attached. This was later decorated with towers and battlements. The abandoned Church still has all walls standing but the roof is damaged. The graveyard is very overgrown. Most of the monuments are to the west of the Church.
MONUMENTAL INSCRIPTIONS
ALLEN – In loving memory of James and Mary Anne Allen, Castletown…….. Bridget Allen and ………R.I.P. (Modern metal cross with letters painted on).
ALLEN – Erected by Thomas Allen of Trim in memory of his ancestors and parents. His father William Allen who died 5 Nov 1810 aged 66 years. His mother Elizabeth Allen died March 25th 1834 aged 85 years. Also his daughter Anne who died 4th June 1871 aged 27 years. (This is a slab on a southern wall of the ruined church)
BARNEWALL – It is a holy and wholesome thought to pray for the dead. Of your charity pray for the soul of Richard Barnewall who died June 4 1826. Catherine Barnewall, his wife who died August 4 1824. Joseph Barnewall who died June 29 1852. Margaret Barnewall, his wife who died November 12th 1841. R.I.P. (This cross is enclosed in iron railings at the north side of the Church and is very overgrown).
BARNEWALL – Beneath this roof lie the mortal remains of Thomas, the infant son of Honourable Thomas Barnewall and grandson of Thomas 19th Baron Trimleston. He was born on the 22nd and died on the 27th of August 1837. (This is a marble slab within the Church on the Eastern wall.)
BARNVILLE – See Dongan.
BARNEWALL – See Dongan
BIRD – See Newman.
BLAIK – This monument was erected by Patrick Blaik in memory of his wife Anne Blaik alias Gavan who died April 23rd 1782 aged 50 years. Here lies the body of Richard Blaik who….
BLAKE – This stone was erected by Thomas Blake in memory of his deceased son. Here lies the body of Edward Blake who departed this life on the 1st April in the year of 1765 aged……….
BLIGH- … neath this stone S… ier lies whose ashes …. her ….. Bligh. He passed thro life by …wept and lau. .. ed when he d … His son whose youth herec glec … In gratitude this stone erect …. In 1741 began his … fo …….. one.
BLIGH – IHS Erected by James Bligh of Dunliever in memory of his father Patrick Bligh who died December 21st 1886 aged 78 and his mother Julia Bligh died May 15th 1889 aged 79. Also his brother William died April 22nd 1892 aged 39. His niece Julia died 21st Jan 1923 aged 27. James Bligh died 8th Feb 1925 aged 81. Mrs. Julia Cahill died 14th of Sept 1926 aged 25. His wife Julia died 17th of Oct. 1950 aged 83. Patrick Bligh died 22nd Dec 1961 aged 64. Kathleen McCoy died 26th Jan 1962 R.I.P
BLIGH – In loving memory of Patrick Bligh Clonbun Trim died 8th Jan 1928
Also his daughters Julia died 21st Jan 1923 and his wife Mary died 28th January 1961. Their son Patrick died 21st Jan 1967. Margaret died 13th August 1974. R.I.P. (Stone mason – F. Rennicks, Navan).
BLIGH – See Treacy.
BRIEN – In memory of Andrew Brien, Carnisle died 4 Sept 1893. His wife Bridget died 14 March 1883. His brother John died 1904. And their son John died 1 June 1917.
BRYAN – See Rooney
BURKE – See Duff.
CAHILL – See Bligh James.
CASEY –IHS Erected by Thos Casey AD 1779 in memory of his father Mathew Casey who died AD 1766 aged 78 years also Ann Casey alias Reily wife to said Mathew died AD 1775 aged 69 years. Also two of their sons Laurence died AD 1745 aged 22 yr. Christopher died AD 1771 aged 46 years and Terrence Reilly aged 60. May they rest in peace.
COLE –"We have loved him in life. Let us not forget him in death." Sweet Jesus have mercy on thy soul of thy servant Terence Cole, Esker West Meath who died in Trimblestown 11th April 1869 aged 42 years and his wife Mary Cole who died 7th Sept 1910 aged 79 years. (This monument is within an iron railing together with the Gorey monument).
COLE – See Gorey
COOK – IHS Here lieth the body of Daniel Cook who departed this life Jan 7th 1794 aged 38 years also his father John Cook who departed this life March the 5th 1781 aged 65 years. Erected by Catherine Soohan in memory of their posterity and also John Cook who departed this life Aug (11?) 1833 aged 42 years.
DALY – See Newman.
DONGAN – (Family grave slap of the Barnewall family, Barons of Trimlestown located within the ruin church. The slab is surmounted by a damaged coat of arms). Here lieth interred the body of Margaret – 4th daughter to Sir Jn Dongan sister to William Lord Viscount Dongan and wife to Robert Barnewall the 13th Lord Barron of Trimblestown. She dyed the fifth day of Nov'ber An Domini 1680 for whome this tomb was made and chapel re edified by her said Lord God be mercyfull to her soule. Here lies also the bodies of the said Rob't the 13th Lord who died in 1687. John his son the 15th Lord who died in April1746. Mary the said John's wife and only daughter to Sir John Barneville of Criokton. (T)?homasine her mother daughter to Ant'y Preston Lord Taragh by Margaret Warren his wife. (Ro)bert the 16th Lord who died on the 6th December 1779.
DONOHOE – In loving memory of Patrick Donohoe, Dunleaver, Trim who died October 23rd 1921 aged 80 years. Also his wife Elizabeth Donohoe who died July 12th 1917 aged 79 years. And their son Cristopher Donohoe who died March 15th 1931 aged 60 years. And their son William Donohoe who died February 2nd 1944 aged 75 years. Also in memory of their cousin Kate Donohoe who died April 4th 1940. R.I.P.
DUFF – R.I.P. In loving memory of Christopher Duff Trim who died 29th Feb 1944 aged 85 years. His wife Jane who died 22nd May 1956 aged 90 years. Their daughter Mrs Mary Burke who died 10th June 1930. Aged 40 years. R.I.P.
FARRELL – See Newman.
GAVAN – See Blaik.
GOREY – Erected by Patk Gorey of Trimlestown in memory of his mother Mary Gorey who departed this life 14th Sept 1802 aged (5?)9 years. Also his father Andrew Gorey departed 24th March 1810 aged 54 years. Also his brother Laurence Gorey departed 16th November 1824 aged (56)? years. R.I.P.
GOREY – Blessed are the dead who die in the Lord. Erected by Patrick Gorey, Trimleston in memory of his beloved wife Mary who died 10th June 1856 aged 59 years. The above Patrick Gorey who died 30th Nov'r 1875 aged 82 years. Annie Cole died May Day 1911 aged 47 years. R.I.P. (See Cole above, stone masons – Harrison Dublin).
HALLIGAN – In loving memory of Mrs Jane Halligan, Moattown, Kildalkey died 9th Sept 1965. Her husband Michael died 27th Sept 1966.
HART – Have mercy O Lord on the soul of Edwd Hart Senior of Moattown who departed this life 6th March 1811 aged 66 years. Also his wife Elenor Hart alias Lacy died 12th March 1839 aged 86 years. Thomas Hart died 18th March 1859. Mary Hart died 7th March 1880. Their children Ellen Hart died 24th Dec 1853. John Hart died 4th March1888. Edward Hart died 14th Jan 1909. Erected by Chr. Hart as a child's duty to the best of parents.
HART – Erected by Margaret Hart in memory of her beloved husband Nicholas Hart who died on the 18th Jan 1870 aged 47 years. Also his father and mother James and Anne Hart.
HART – …… Here lieth (Ri)chard who departed 14th of December in the year…… God 1764 aged 67 years. Here …… of Rosana Hart……..
HOGG – Of your charity pray for the souls of Mrs Jane Hogg died 15th Aug 1861 aged 72 years. Her son Laurence Hogg died 22nd March 1884 aged 52 years. His wife Mrs Mary Hogg died 3rd May 1911 aged 75 years. Their sons Patrick died 22nd Oct 1919 aged 48 years. James died 13th Nov 1933 aged 68 years. John died 6th March 1934 aged 63 years. Laurence died 10th Oct 1934 aged 61 years. Jane Hogg died 17 Nov 1944 aged 81 years. R.I.P.
KING – Erected by Anne King in memory of her husband and children as underneath mentioned on tomb. Also the above Anne King died 29th July 1887 aged 73 years and her beloved daughter Ellen died Sept 12th 1889 aged 55. (There are two fallen stones in front of this monument and these may contain the inscriptions referred to on the monument itself)
KING – Erected by Mrs Eliza King of Gormanstown in memory of her beloved husband Thomas King who departed this life 20th April 1839 aged 53 years. Also her daughter Jane who died June 26th 1866. Also the above Eliza King who died Oct 24th 1870 and her son James who died 2nd Sept 1875. Also her daughter Eliza who died 10th Dec 1882. Also her son Thomas King who died 23rd Nov 1895. Her son Andrew died 6th Feb 1899. And her daughter Rosanna King died 22nd Feb 1900. R.I.P.
LACY – See Hart Edward.
LYNCH – Erected by Mathew Lynch of Trim in memory of his father Farrell Lynch who died May ye 1 1761 aged 75 years. Also his sister Catherine who died March ye 25th1767 aged 28 years also his mother Mary Lynch who died Dec ye 25th 1771 aged 69 years. (This stone is sited beside the west wall of the church).
MC CARTY – IHS This stone and buriel place belongeth to Andrew Mc Carty and his posterity. Here lieth the body of Andrew Mc Carthy and his wife Mag Maxwell. Erected by Elizabeth Mc Carty.
MC COY – See Bligh James.
MAXWELL – See Mc Carty.
MOONEY – In loving memory of James Mooney, Trimblestown died 7th Dec 1944. His wife Kate died 5th April 1964
NEWMAN – My Jesus mercy. Erected in loving memory of Margaret Newman, Carnisle who died 23 Jan 1919 aged 70 years. Also of Thomas Newman who died 24 Sept 1922 aged 83 years. Their daughters Margaret died 1951 Julia died 1965. Mary Farrell died 1923. Her daughter Rose died 1952. Patrick Daly died 1959. His wife Rose died 1949. R.I.P. Michael Bird died 26 May 1953. His wife Elizabeth died 1 Jan 1956. (Stone mason – Gerrard, Navan).
PRESTON – See Dongan.
REILLY – See Casey.
ROONEY – Erected by Eliza Rooney Clonfane in memory of her beloved husband John who departed this life Jan 7th 1886 aged 74 years. Also her son Francis died 28th April 1908 aged 38 years. The above Eliza Rooney died 19th April 1909 aged 85 years. Mary Rooney died 11th Sept 1948 aged 84 years. James Rooney died 15th April 1950 aged 87 years. R.I.P. John Rooney, Moymet died 28th January 1956 aged 98 years.
ROONEY – Erected by Michael Rooney in memory of his father John Rooney who departed June 1807 aged 70 years. Also his mother Mary Rooney who died Feb 1815 aged 64 years. Also his wife Anne Rooney alias Bryan who departed May 1831 aged 39 years. Also his daughter Mary Rooney who died Feb 5th 1832 aged 20 years. R.I.P.
SOOHAN – See Cook.
TREACY – Sacred Heart of Jesus have mercy on the soul of Margaret Treacy died at Portarlington Whit Monday 7th June 1897 aged 29 years. R.I.P. Erected in sad and loving memory by her bereft husband Willie. Their daughter Mary M. Bligh, Dunlever House, Trim died 11th Sept 1972 aged 76 years. (Stone mason – T.H. Dennany Glasnevin).
WARREN – See Dongan
**********************